What information is needed to apply for a business loan?
January 21, 2020 •Leah Driver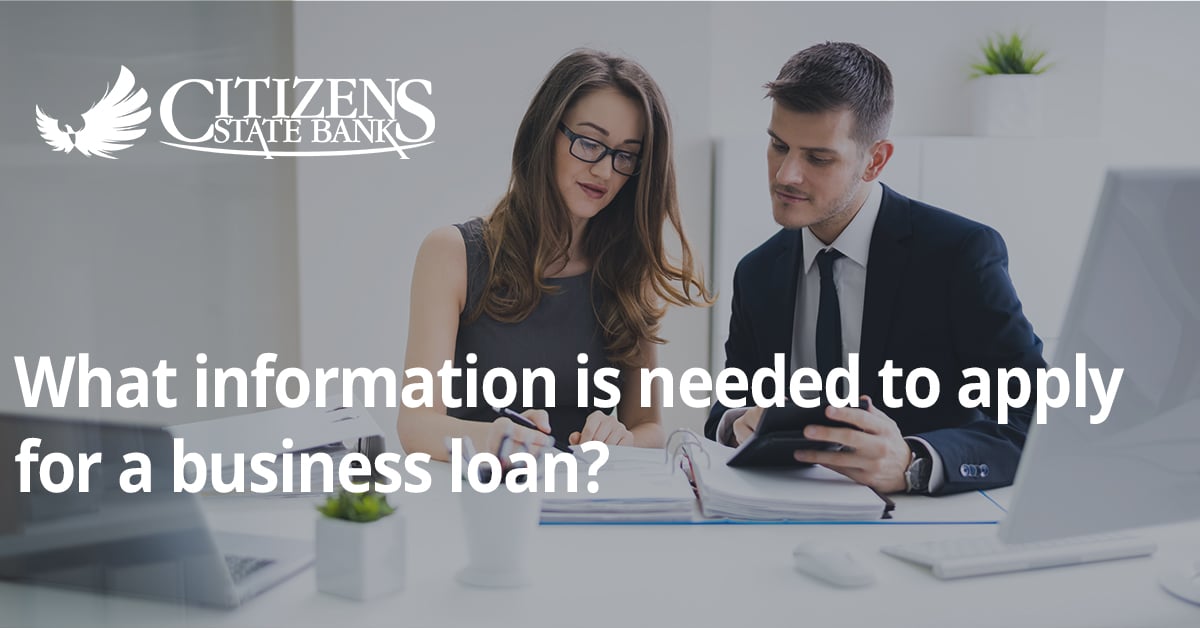 Wondering how to get a small business loan from a bank is a cause for celebration. You're growing quickly and need more resources to sustain your business. It's a big decision though, and it's important to understand exactly what's required in order to start the application process. This blog will take you step-by-step through all of the documentation and information you need when applying for a small business bank loan.
What are the types of loans available to me?
There are different types of loans you can apply for as a small business. Here are the most common:
A Small Business Administration (SBA) Loan
These are loans backed by the government given specifically to qualifying small businesses. SBA loans tend to have stricter regulations, more flexible terms and conditions, and lower interest rates.
Secured Business Loans
For this type of loan, you'll need collateral. More on that below.
Unsecured Business Loans
This type of loan doesn't require collateral, but you will be charged a higher interest rate and receive smaller loan amounts in return.
Loans for Working Capital
Small businesses use these to pay for daily expenses.
Business Lines of Credit
This is like having a credit card but for your business. You can spend up to a certain limit, then pay it back, regularly.
Merchant Cash Advances (MCAs)
For a percentage of your business's future credit and debit card sales, MCAs give you an advance on that promised income.
What do I need to prepare to apply for a loan?
You'll need to do a fair amount of information gathering before you're ready to apply for a small business loan, and your banker can usually help guide you in the right direction. Here is the information you'll likely need:
Your Personal and Business Credit Score
Financial institutions want to know that you are a reliable borrower, so they will check your credit scores–both personal and business.
To build a good personal credit score, pay your bills on time and in full when possible (rather than the monthly minimum some credit cards require).
To build a good business credit score, establish tradelines (also known as accounts payable) with suppliers. You usually need a few tradelines to receive a business credit score from a company like Dun and Bradstreet Paydex.
The Minimum Requirements and Qualifications of the Lending Institution
While different types of lenders have different documentation requirements, almost all will review your operating history, credit score, and annual income to qualify your business for a loan.

For example, loans backed by the SBA have one of the more extensive lists of documents required, such as:
Meeting "small business" requirements as defined by the SBA – these vary by state
Demonstrating owners have reasonable invested equity in the business
No delinquencies on any existing debt obligation to the federal government – like student loans or mortgages
However, in exchange for increased documentation, SBA loans typically require smaller down payments, have lower interest rates and more favorable repayment terms than other lenders.
Financial Documentation
When applying for a small business loan, we recommend coming with all of these documents in hand (exact requirements vary by lender):
Three years of business tax returns
Three years of personal tax returns for anyone who owns 20% or more
Completed and signed Personal Financial Statement
Most recent Profit & Loss Statement, preferably within the last 90 days
Current balance sheet, including your long-term debt schedule with rates/line of credit limits
Current Accounts Receivable and Accounts Payable aging reports (if applicable)
Three years of tax returns for closely related entities (if applicable)
Value of items that will be collateralized
Rental schedule (if applicable)
A photo of your driver's license
Your SSN
Your EIN
Commercial leases
Business registration and licenses
Articles of incorporation
A business plan
Your professional resume
Financial projections
A Robust Business Plan
When it comes to small business banking, lending institutions want to know that your small business has a bright future ahead of it and that you've carefully thought through all of the obstacles, challenges, and variables that you will encounter along the way.
This is where a good business plan comes into play–one that shows thorough industry analysis, a facilities, and operations plan, current and projected financials, marketing and sales strategy, and SWOT analysis (strengths, weaknesses, opportunities, threats). If you're looking for a good business plan template, we've created one for you at the bottom of this article.
A Plan for Collateral
Every lender has their own protocols regarding collateral, including the required collateral for various loan amounts. For example, some loan agreements for small business loans of $25,000 or more require both collateral (inventory, real estate, or equipment) and a personal guarantee from everyone who owns 20% or more of the business while other lenders might only require a personal guarantee.
Be sure to understand the terms of the loan agreement before closing your loan to ensure you understand how much – if any – of your personal assets are at risk if you need to default on the loan.
Conclusion
Running a business comes with big decisions that can make or break your company. When it's time to own property, make that big purchase, or set your sights on a new horizon, you need a partner you can count on. At Citizens State Bank, we understand how important it is to have confidence in your small business loan. It's why we work to understand your needs, analyze your business, and provide financial stability that unlocks new opportunities. We aim to help you operate with ease.
My Business Plan
There are many ways to create a winning business plan. The best plans are customized to meet your needs. This blueprint will help you identify those key areas and objectives that require focus and clarity to launch or grow your business.

---
The views, information, or opinions expressed in this article are solely those of the author and do not necessarily represent the views of Citizens State Bank and its affiliates, and Citizens State Bank is not responsible for and does not verify the accuracy of any information contained in this article or items hyperlinked within. This is for informational purposes and is no way intended to provide legal advice.