What to do if your Credit Card Application is Declined
August 8, 2022 •Leah Driver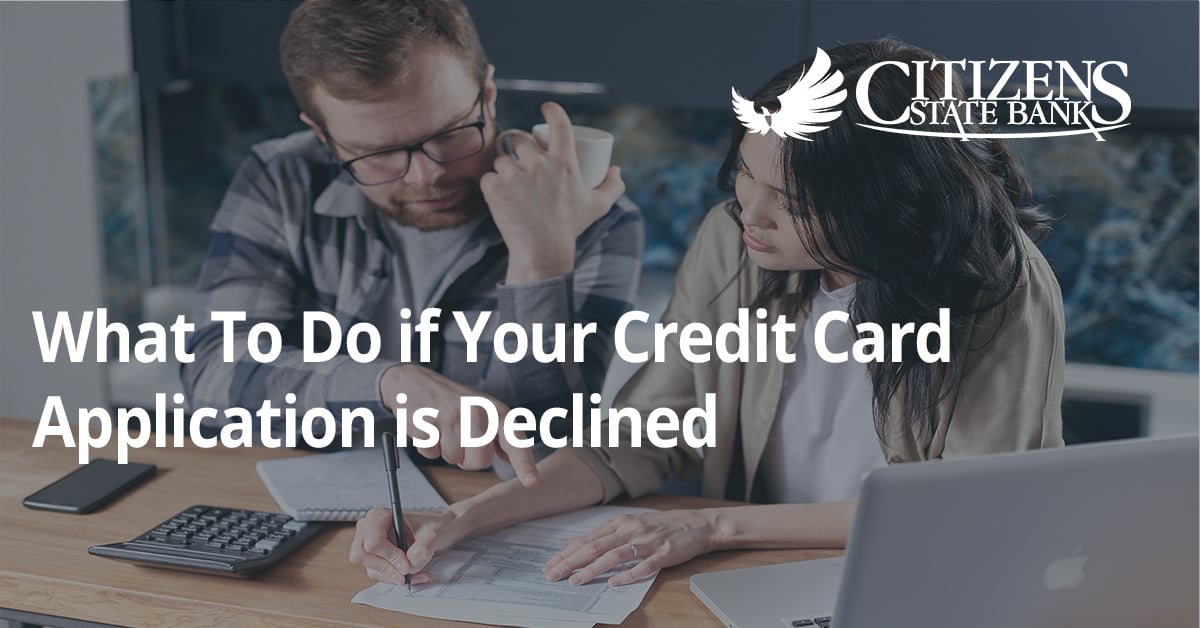 While having a credit application declined can feel like an insult, it's not a personal statement at all. It's strictly a reflection of your credit report, and there are steps you can take to increase your odds of approval next time.
Read your rejection notice
The first thing you need to do is review your "adverse action notice," which will explain why your application was declined. The most common reasons credit is denied include:
Insufficient income – some lenders have a minimum threshold amount, while others look at the percentage of your income that's used to pay for existing debit (your debt to income ratio)

Limited credit history – especially if you're just getting started on building your credit, your limited history might limit the card types you'll be approved for

Negatives on your credit report – if you've made late payments, have accounts in collection, or court judgements against you, you're more likely to have your application declined

Too much debt – Some lenders will not only look at the amount of debt you have, but the debt you would have if you maxed out every credit card and line of credit you can access
It's possible your application was declined because of a "non-credit" reason – like your age (most lenders don't issue credit to those under 18), a mistake on the application you submitted, or an error on your credit report.
Review Your Credit Report
You typically have up to 60 days to request a free copy of the credit report used in the application decision. Be sure to get that report and review it closely as mistakes aren't unusual. If you do find errors, dispute them in writing with the credit bureaus.
It's a good idea to monitor your credit so you aren't surprised when you apply for credit. There are numerous credit monitoring services available, and you're entitled to a free copy of your credit report from each of the "big three" credit reporting agencies (Equifax, Experian, and Transunion) each year – using AnnualCreditReport.com makes this process a little easier.
Review Your Application
Double check your completed application. It's easy to make mistakes that can cause your application to be denied, like typing in an incorrect address, misreporting your income, or using the wrong social security number. If you see you've made a mistake on the application, contact the lender and discuss how this should be addressed.
Take the time to correct issues
If you understand why your application was declined, you can address that issue to increase your odds of approval next time. For example, if your income – or debt to income ratio – is an issue, pay off some of your existing debit or find a "side gig" and try again. OR
Apply for a card with better approval odds
If you really need a credit card now (for example, your lack of credit history is the reason you were declined), look into applying for a different type of credit card. You might ask a close friend or family member to add you as an "authorized user" to one of their credit accounts or apply for a secured card or credit builder loan.
Finally, be patient and ask for help if you need it
Smart money habits – like consistently making payments on time – will help you to establish or rebuild your credit.
If you feel you need some guidance, don't hesitate to reach out. Ask someone you trust to mentor you, find a friend in a similar circumstance and agree to hold each other accountable, talk to your banker – but be very cautious if someone wants to charge you to improve your credit. (There are numerous free resources available – we link to several here.)
There are also a number of online resources to help you learn about, establish, and improve your credit. Some of our favorites include:
FDIC's How Money Smart Are You? This

is a suite of 14 free games and related resources about everyday financial topics based on the FDIC's award-winning Money Smart program.

Playing a game, earning rewards, AND learning? It doesn't get much better than this.

Take Charge America might not be quite as fun, but has numerous free resources to help you take charge of your credit.

The Consumer Financial Protection Bureau

is also free and provides educational tools to help you make informed financial decisions.
The bottom line? Don't get too discouraged if you had a credit card application declined. While building or repairing credit can feel like climbing a mountain, there are a number of free tools and resources so you can get the tools you need to help you succeed. Don't believe us? Stop by any of our banking centers or give us a call and we can help you get started.
---
The views, information, or opinions expressed in this article are solely those of the author and do not necessarily represent the views of Citizens State Bank and its affiliates, and Citizens State Bank is not responsible for and does not verify the accuracy of any information contained in this article or items hyperlinked within. This is for informational purposes and is no way intended to provide legal advice.