Funding Options for Women-Owned Businesses
October 31, 2022 •Admin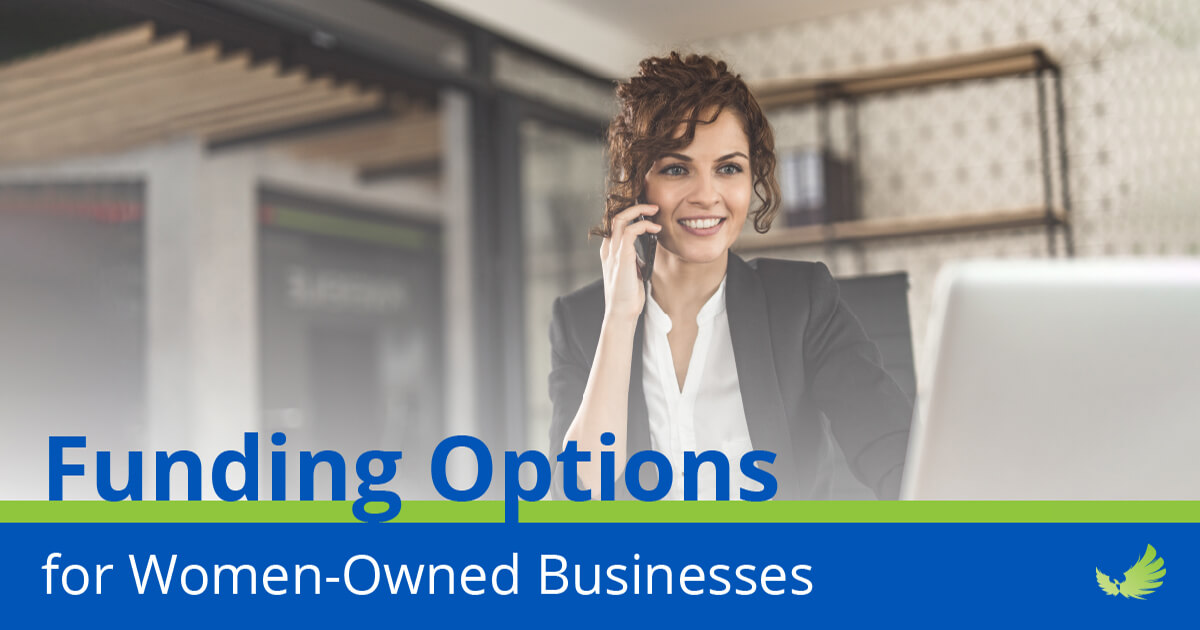 Are you a woman business owner looking to take your business to the next level? If so, we'll take you through what your funding options are and how you can set yourself up for success.
So, what does the "next level" mean? It depends on your business, your industry, and your budget. Maybe you want to upgrade your workspace, invest in new equipment, or expand your team. Whatever your dream is for your business, it's definitely possible. However, one of the hardest parts of taking a big step is finding the right way to fund it. However, with a little bit of research, you can find the right option that fits your business strategy and your overall goals.
Different Funding Options
When it comes to funding initiatives for your business, two of the most popular options are grants and loans. Grants are sums of money that you don't have to pay back, while there are stipulations attached, such as what you can use the money for and the amount of time you have to use it. On the other hand, loans are sums of money you are expected to pay back with interest, though you're free to use the money as you choose. Both of these options offer their own pros and cons, all of which could make a huge difference for your business.
Grants
Grants are funding made available by an individual or organization, public or private, for use by someone else to finance a particular activity or organization. Most grants have limitations, requirements, or stipulations as to who is eligible for funding, how much they can receive, how they can use it, and how long they have to use it. There are public institutions in the United States that offer grants for many different kinds of purposes as well as many private institutions that offer grant funding as well. Grants do not have to be repaid as long as the money is used according to the conditions under which they were granted.
Although grants seem glossy and covetable (free money, right?) they require research when it comes to finding and securing one. Additionally, the competition for small business grants is quite stiff. There are often strict and detailed rules around who is eligible for specific grants and what the application needs to include.
Consequently, grant applications are an involved process that, if you're embarking on it yourself, may take valuable time away from the actual running of your business. This doesn't mean you shouldn't apply for a small business grant or that it can only be a tortuous, laborious process. It's simply a matter of knowing the time and energy you will spend applying for grants and factoring that into how much it makes sense for your business at this point in time.
So how do you get a grant? Grants.gov and SBA grants are both excellent resources as both have a vast catalog of grants for you to search and filter depending on your business size, industry, and various other defining factors, which can be especially relevant for women business owners.
For example, grantors have a focus on what they will fund. If you are a woman entrepreneur who focuses on providing farm-to-table meals, look for grants that cater to that niche. Half the battle in grant applications is finding the perfect grant that matches your specific niche and then completing the application on time and without a single flaw.
A popular grant for women-owned businesses is the The Amber Grant. The stipulations are fairly simple: "Businesses should be at least 50% women-owned for consideration, based in either the U.S. or Canada, and the applicant must be a minimum of 18 years old." Beyond grants for women-owned businesses, there are even smaller niches for business grant focuses, such as BIPOC women entrepreneurs, veterans, and those with disabilities.
Loans
A business loan is different from a grant in several ways. First of all, you have to pay loans back, with interest. Secondly, loans tend to have fewer stipulations than grants, although there are undoubtedly some, just different ones. Typically small business loans come from traditional lenders, that is, banks, but more and more there are nontraditional lenders offering loans to small businesses, such as online lenders and micro lenders. You can get cash more quickly from an online lender than from a traditional bank (one week versus one month of waiting, in some cases) but online lenders tend to charge higher fees and may require personal or business collateral.
How is the loan application process different from a grant? When it comes to business loans, it's about your credit and your reliability as a small business owner, rather than your organization's mission, demographics, or activities. Put simply, lenders want to give loans to someone who's been in business for a while, has a good credit score, and shows solid proof that they can pay back the loan.
But borrowers tend to have more control over what they use their loans for, whereas grants have more limits on what the money can be put toward. For example, some grantors will only permit money to be spent on direct service programs, rather than the more "boring" administrative costs of keeping the lights on and getting a good WiFi signal. Additionally, taking out a loan gives borrowers the opportunity to gain a strategic banking partner to help them through the application process and give them invaluable advice about small business banking.
There are several different types of loans to choose from, and it can be confusing to make heads or tails of them at first when you're just starting out. That's why a reliable small business banking partner can be a huge asset when it comes to funding your business; they can give expert financial advice, provide guidance on the loan application process, and help you determine your eligibility for certain loans and what your best options are.
Types of Business Loans
Here are some of the different types of loans typically available to small businesses:
A term loan is a lump sum of upfront cash, which you then repay with interest. It's quick money, and you can get a higher sum than other types of loans. If you're looking to expand your business and you already have good credit, but you don't want to wait long for cash, a term loan is a good idea.
An SBA loan is one that banks and other lenders give to small businesses, and The Small Business Administration acts as their guarantor. They have very low interest rates and you can borrow up to $5 million, but there are a lot of stipulations for qualifying, and the application process is time-consuming and very detailed. It's best for small business owners who are looking to expand but are in a position to wait some time for the money to come in. Read about SBA loans for women-owned businesses here.
Equipment financing helps you buy equipment for your business. The term of the loan typically matches the expected life span of the equipment, and the equipment serves as collateral. If you have strong credit, you can get a competitive rate for the equipment loan, and at the end of the repayment period you will own it outright. However, you may need a down payment, and there is always the possibility that the equipment will deteriorate before the repayment period is up.
Commercial mortgages are for small business owners who want to purchase or renovate commercial property, such as offices, storefronts, or warehouses. You can purchase land or larger residential buildings with commercial mortgages, or you can even refinance existing real estate debt. Read more about commercial mortgages on our website.
As a small business owner, it can be challenging, even daunting, to navigate the different types of funding available to you and how to qualify for them, especially when looking to grow your business. That's why it's important to have a bank that can help guide you through these decisions. Schedule a conversation with one of our CSB Relationship Managers to explore loan options that will help you grow your business.
The Central Indiana Women-Owned Business Guide
We've created this guide to give women-owned businesses the tools they need for success. In this guide, you'll find valuable insights for starting and building your business, plus useful Citizens State Bank resources like our Business Plan and Bank Switch Kit.
---
The views, information, or opinions expressed in this article are solely those of the author and do not necessarily represent the views of Citizens State Bank and its affiliates, and Citizens State Bank is not responsible for and does not verify the accuracy of any information contained in this article or items hyperlinked within. This is for informational purposes and is no way intended to provide legal advice.