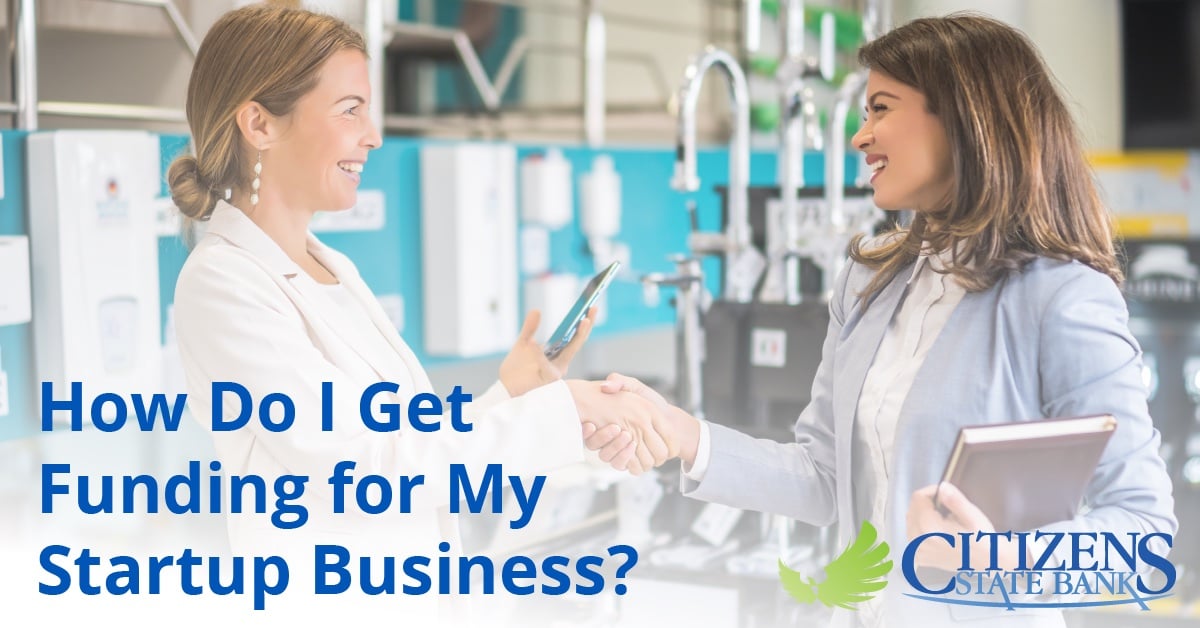 When your startup is in its earliest phases, getting the funding you need to move it to the next level can seem daunting. However, understanding the elements of small business loans is key to positioning yourself for success. We're here to help you better understand what it takes when it comes to startup funding so you can feel confident about taking the next steps–like applying for a loan–when you're ready.
How do banks make decisions about loaning money to startup businesses?
Banks' lending decisions are based on creditworthiness. As soon as you establish your startup, it's important to start building good credit. Before lending your business money, your bank will take a look at your credit report, which is a reflection of how your business handles its finances. The better the report, the better your funding options.
There are five major factors, commonly referred to as the "5 Cs of Credit", that will determine your creditworthiness.
Capacity - To determine a business owner's capacity to repay a loan, banks will take a look at the business's revenue, amount of money the owner has personally invested into the business, outstanding debt, and cash flow.
Character - This is the term used to describe how likely a business owner is to repay a loan. Credible references play a role in determining this.
Collateral - If you have assets such as real estate, investment accounts, or business inventory, those can act as security for the loan.
Capital - Personally investing in the business looks good to lenders. It shows commitment.
Conditions - Lenders will consider many factors out of a business owner's control, such as the state of the economy and competition of businesses in your industry.
Can I get a startup business loan with limited credit or revenue?
One issue many startup owners face is establishing enough credit to meet a lender's typical criteria. Instead of checking your business credit to determine your eligibility, they'll take a look at your personal credit score and business experience. A consistent history of handling your personal finances is a good indicator for banks that you'll be committed to making your loan payments.
If you have a subpar credit score, you'll have to prove that your business experience makes up for it. It will be crucial to convince the lender that they can trust you. Keep in mind that every bank has to be mindful of their investments so that they are able to serve the community long-term.
Another key to ensuring a lender will pay off a loan is by showing you a proven history of cash flow. You must show that your business is bringing in enough money to cover your current debts and loan payments.
What should I look for in a loan for my startup business?
The three major factors you should consider when you're interested in a loan are interest rates, terms, and conditions. Make sure to pay attention not only to the interest rate but whether it is simple or compound. If it is compound, look at the intervals (daily, monthly, or annually), which will help you determine the total cost of the loan.
As far as terms and conditions, have an understanding of the loan's timeframe, any penalties for prepaying, limits to how you use funds, and if the loan is secured or unsecured. Secured loans are backed by collateral and are easier to obtain. On the other hand, unsecured loans are not secured by assets, but come with higher interest rates and are more difficult to get.
Along with the above factors, there are three types of financing to look into. Here is an overview of each.
Small Business Administration (SBA) Loans - These loans are guaranteed by the government (SBA) to qualified small businesses. They come with several regulations, but lower interest rates and often flexible terms and conditions.
Operating Lines of Credit - This is very similar to the way a credit card works. You can withdraw cash (up to a certain limit) when you need it for operating costs and then pay it back regularly, over time.
Commercial Mortgages - This is what most people often think of when it comes to small business loans. The bank extends commercial mortgages to allow businesses larger amounts of money to allow them access to capital. In many ways, it is similar to a mortgage on a home.
What if my startup business doesn't qualify for a loan yet?
If you aren't ready yet for a loan, there are alternatives to explore. Here are a few ways you can get a jump on financing your startup without a business loan.
Grants - Grants are highly desired because they don't need to be repaid. So if your business qualifies for one, it makes sense to apply. The government, at all levels, offers grants for various purposes, but you'll have to do your research to find them and understand the qualification requirements.
Crowdfunding - If your business has a strong customer base, this could be a great option. Through a crowdfunding campaign on a website, you can encourage customers to donate money to help support your business. Crowdfunding is either reward-based (offering a product or service in exchange for contributions) or equity-based (offering shares of the business based on donations).
Online loans - These types of loans are processed completely online–from applying to repayment. Online loans are quick, convenient, and you won't need a high credit score to get one. However, you'll need to pay close attention to the fees, interest rates, and the lender's reputation to make sure you aren't getting a bad deal.
Venture capital - If you're willing to sell portions of your business in order to gain funding from investment firms, this is another option to consider.
The key to funding: plan ahead!
Figuring out how to fund your small business is no easy task and all the information may seem confusing.
At Citizens State Bank, we offer a wealth of resources to help guide your decision-making. Two of the best actions you can take to get your business started on the right track are to have a solid business plan and talk to experts who know about small business financing.
We can conduct a full financial assessment of your business so we know exactly how to help you get funding.

---
The views, information, or opinions expressed in this article are solely those of the author and do not necessarily represent the views of Citizens State Bank and its affiliates, and Citizens State Bank is not responsible for and does not verify the accuracy of any information contained in this article or items hyperlinked within. This is for informational purposes and is no way intended to provide legal advice.