Our Favorite Commercial Mortgage Advice for Small Business Owners
July 26, 2022 •Admin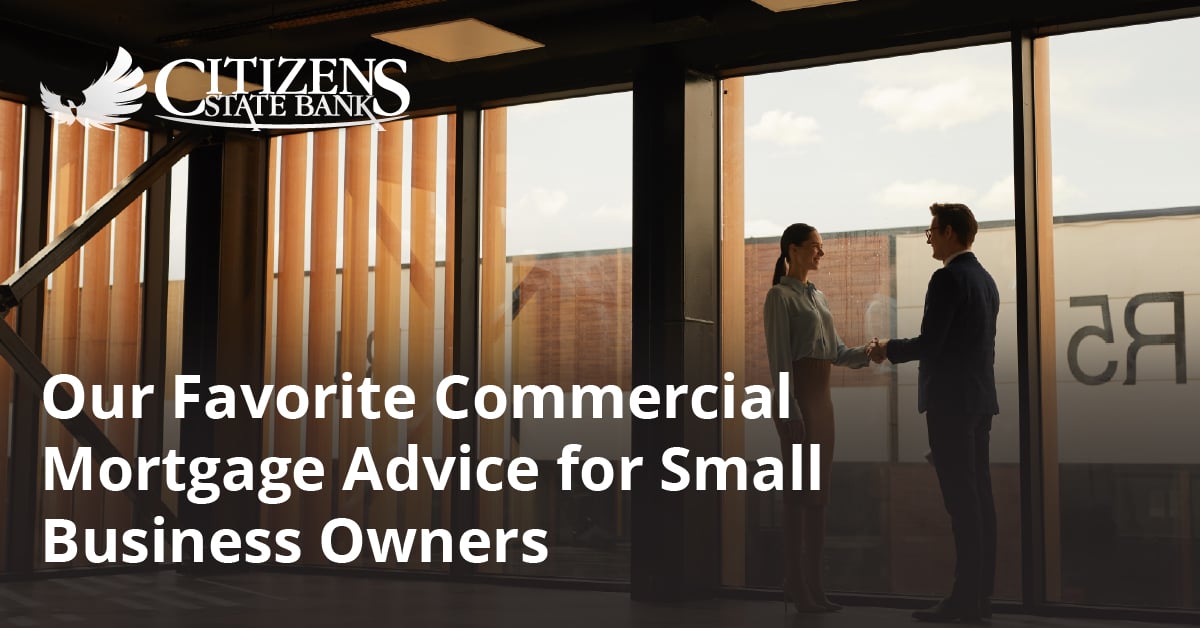 Let's face it, no small business owner wakes up one day to decide they want a loan to pay off. But, what they do want is a solution to their problems or the ability to capitalize on an opportunity for their business. So whether you want to stop paying so much in rent, modify your facility, receive a tax deduction on loan interest, or even own your space, here is our list of favorite advice around commercial mortgages for small business owners.
Request pre-approval with your banker.
John DeLucia, the Chief Lending Officer at Citizens State Bank, is known for saying, "The biggest piece of advice I give, which is right out of the residential playbook, is to get some sort of pre-approval. Have a conversation with your banker."
You can request a commercial loan term sheet from your bank, which is a non-binding document to formally demonstrate an interest in the transaction. It also outlines the parameters and terms of the loan as the borrower, as well as the conditions for approval.
A term sheet will likely delineate the loan amount, interest rate, maturity date, and fees. It works similarly to a residential pre-approval letter and positions you to make informed decisions around the future of your business' real estate.
Build your assets separately.
To maximize flexibility, build your business assets separately when possible. For example, if you operate a company and own real estate, consider obtaining another business license for your real estate holdings.
There are a variety of ways to approach this concept. Issues arise for many business owners interested in a long-term wealth-building strategy like this, but don't know what options are available.
In this previous example, a strategic banking partner could walk you through the principles of a sale-leaseback (SLB), which is an arrangement in which the property owner sells it and then leases it back to the new owner.
Regardless of what assets you have, it's important to have a team of strategic thinkers at the table with you walking through the pros and cons of each opportunity.
Develop a long-term wealth-building strategy.
Your plan for a commercial mortgage should be designed with an end goal in mind. Like our example above, your business should be part of a larger wealth-building strategy.
Again, no one wakes up craving to sign paperwork and become indebted to someone else. Unlike many other institutions, we acknowledge this factor and realize that a wise commercial mortgage decision is a means to an end.
With this in mind, prepare or update your business plan before completing a commercial mortgage application. Indicate how you plan to cover the loan, what changes this will create within your operation, and the ultimate markers of growth and success.
The business owners we love serving see a commercial loan as one piece to a larger puzzle in how you operate, strategize, and go to market.
Use a commercial real estate agent.
Just like the process of finding a residential property, it's important to rely on the expertise of a trusted real estate agent. Again, our own John DeLucia is commonly overhead telling business owners:
"I'm a big advocate of getting a real estate agent to access the property and location. If you've never owned commercial real estate, you won't know what's important. Although it may be tempting to try to go it alone, there are many reasons you'll benefit from hiring a professional"
Commercial real estate agents can negotiate the best deals on your property. They're familiar with the local market and will know the comparables. This is a big decision, and you want confidence around reasonable pricing.
Also, commercial real estate agents have access to a wide range of properties and may have inside knowledge of properties before they are advertised online. The right agent should have a trusted seat at your table as they have a solid network that can notify them when new properties become available.
Don't overlook due diligence.
Like kicking a car's tires, you want to invest in a quality commercial property. Due diligence is an essential step in the commercial mortgage process. You want to uncover all the facts about a property before acquiring it, which may lead to you renegotiating the purchase or even backing out of the wrong deal.
Some information you'll want to obtain from the sellers includes
financial statements
operating expenses (including utilities)
maintenance records
tax information
building and environmental information (such as flood zone)
all licenses and permits.
For example, due diligence was crucial for our friends at Fountain Square Yoga in the heart of Indianapolis. They were pursuing a commercial property and spent significant time conducting research into the environmental state of the location, which included both environmental research and boring to collect soil samples.
Having the right team, including a solid commercial real estate agent and strategic banker, is the first step to navigating the due diligence process with confidence.
Harness all available resources.
As you navigate the process of obtaining a commercial mortgage, check out the Indiana Small Business Development Center and U.S. Small Business Administration (SBA) websites. These excellent resources will help guide you through starting, financing, or growing your business. They offer a plethora of information and courses to get your business going in the right direction.
On a community level, another important resource is determining who will be your local bank. We're obviously a bit biased here, but too many small business owners are stuck with bankers who say, "find the spot and we'll draw up the terms."
Here at Citizens State Bank, you receive personalized service from concept to completion at every step of the commercial mortgage process—not just drawing up terms.
Partner with a strategic banker.
Although many businesses work with bankers, most don't have a strategic banker. You want a banker at your table who's on your side and will look out for the best interest of your business–someone who acts as an extension of your management team.
Our goal is for every business owner navigating this process to find people you know, like, and trust, who do this for a living. When you put your team together and lean on those resources, it lifts the burden of doing it all on your own.
We've worked with businesses in many industries–from dental practices and insurance agencies to schools and wellness facilities.
We are a Hoosier bank for Hoosier businesses and delight in offering a personal experience that meets your specific financial needs.
Request Your Commercial Loan Review
The current commercial real estate market can complicate business decisions. This makes it even more important to consult with experts.
If you currently have commercial debt, we will thoroughly review your interest rate, potential pre-payment penalties, and current financial position so you can make an informed decision regarding your current or future commercial mortgage.

---
The views, information, or opinions expressed in this article are solely those of the author and do not necessarily represent the views of Citizens State Bank and its affiliates, and Citizens State Bank is not responsible for and does not verify the accuracy of any information contained in this article or items hyperlinked within. This is for informational purposes and is no way intended to provide legal advice.