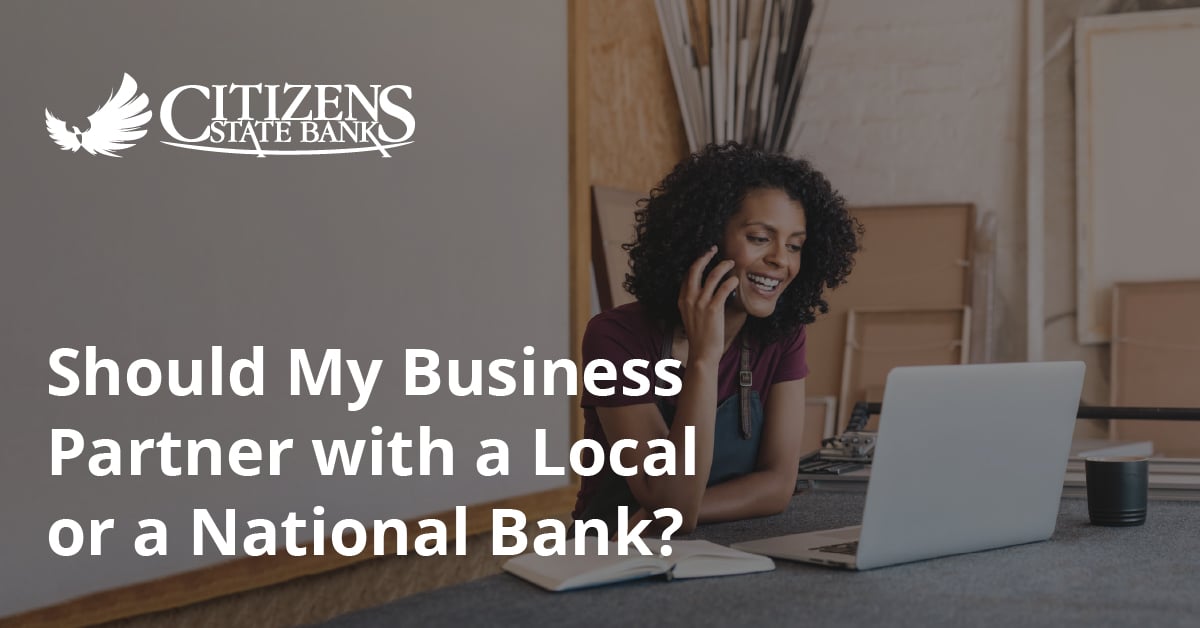 Whether you're a small business owner who is looking to switch banks or find a banking partner, choosing who you bank with is a big decision.
First, what are your needs? Are you preparing to take out a commercial loan? That'll be a major factor in your decision-making process.
Picking a business bank is not a one-size-fits-all deal. There are great bankers in both small and large banks and each caters to different needs. In this article, you'll learn what national and local banks can offer your small business. We'll take a look at which type of bank will best suit your business needs.
National Banks
National banks operate on a large scale, often offering a variety of services and products. Volume is often the name of the game, but that scale does provide advantages for some business owners. Some benefits include:
Convenience - Many national banks are spread all across the country and can even be found in some international locations. If your business has multiple international locations, for example, this could be a helpful factor in your consideration.
Higher lending limits - Larger banks with a national presence often have higher lending limits for enterprise companies who need that level of support.
There are downsides to small business banking at larger institutions as well. Here are some of the cons to consider when choosing a national bank:
Less personal - Dealing with large banks can be more challenging. If you have a problem, you'll likely have to contact a call center. You may be treated as an "account number" rather than a person.
Tighter policies and regulations - Bankers in larger institutions have less room to negotiate, waive fees, or offer discounts. Because of brand recognition, big banks don't need to compete for your business and are more apt to say "no" to small and medium-sized loans because the reality is no banker has ever been reprimanded for saying "no" to a loan.
Advantages of Partnering With a Local Bank
Local banks cater to small businesses in their area, just like we do for companies here in Central Indiana, and often focus on helping them thrive. Here are a few benefits that local banks offer for business banking.
Personal Service and Relationships
Small business owners typically see higher-quality customer service at local banks. If you have a question or problem and call your local bank, you will speak to a person who lives in your local area and better understands your needs instead of reaching an impersonal call center.
Additionally, over time, you can establish a solid relationship with the people at your local branch where it's common to see the same faces time and time again.
Many local banks, ours included, have relationship managers who guide you through major financial decisions. Whether it's third-party feedback or even a complete financial review, this kind of personal service builds trust and ultimately helps keep your business on the right track.
Flexible Lending
Taking out a commercial loan, for example, is a big step for any local business. Choosing a local bank in your region offers more opportunities because your ongoing relationship allows you to leverage their lending advice for your benefit.
Free Business Checking Accounts
Local banks typically offer free checking accounts for businesses and sometimes even simplify the migration process with a complementary business switch kit.
Community Involvement
Local banks are active members of the community. For us, that means the dollars invested in Central Indiana stay here. Your local bank will believe in investing in the local economy and understand the needs of your business in the Central Indiana landscape. This doesn't mean that national banks never serve the community, but it does mean if you need a commercial loan or are preparing for a big decision a local bank will develop a relationship with you early that helps you navigate those decisions with confidence.
Making Citizens State Bank Your Local Bank
At Citizen State Bank, our way of banking is all about the relationships we make with the small business owners in our communities. We fully acknowledge the need for national banks, and at the same time are committed to continuing the legacy we started in 1873.
If you're looking for a community-focused bank that offers both a relationship and all the amenities of banking in the digital era, let's have a conversation. We might just be a fit if you:
Already bank at a national branch and feel like just a number
Have an upcoming borrowing need for your business
Are tired of not having a go-to relationship with a strategic banker
We're committed to delivering business banking resources and guidance at every step of the way. We take care of our customers in a way that big banks simply can't. That matters to us and we know it matters to you too.
Ready to Make the Switch?
We understand that it may feel like a big decision to change banks. There are payments to update, accounts to transfer, and a ton of other items already on your plate. Thankfully, we created this business switch kit with business owners like you in mind. Download your copy or even request a free business financial review today.

---
The views, information, or opinions expressed in this article are solely those of the author and do not necessarily represent the views of Citizens State Bank and its affiliates, and Citizens State Bank is not responsible for and does not verify the accuracy of any information contained in this article or items hyperlinked within. This is for informational purposes and is no way intended to provide legal advice.