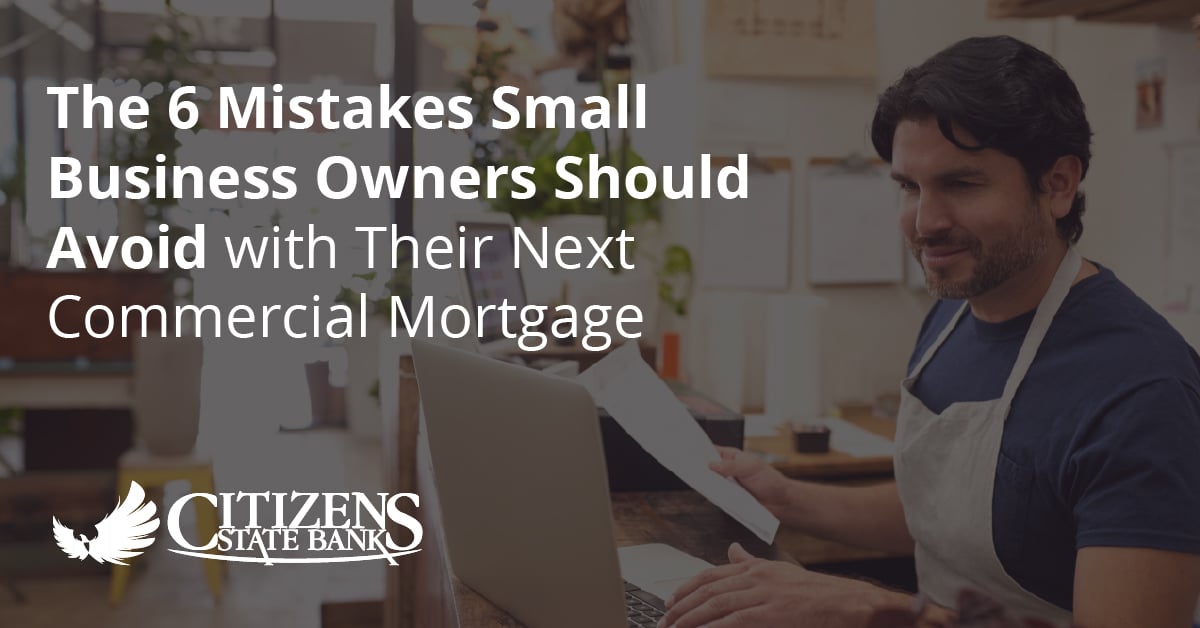 Taking out a commercial loan is necessary for many small business owners. Unfortunately, there are so many common mistakes that set companies back big time. Thankfully, these challenges are avoidable with proper planning and forethought. Let's explore the 6 most common commercial mortgage mistakes.
Mistake #1: Neglecting to pursue pre-approval from your banker
"The biggest piece of advice I give, which is right out of the residential playbook, is to get some sort of pre-approval. Have a conversation with your banker."- John DeLucia, the Chief Lending Officer at Citizens State Bank
It may seem unnecessary, but neglecting to meet with your banker is a common mistake we see time and time again when it comes to big real estate decisions. Beginning with the end in mind means starting with a pre-approval that considers your larger finance and business goals.
When discussing a commercial loan, your banker should provide crucial information within a loan term sheet. This non-binding document outlines the loan terms for the borrower and states the conditions for approval.
Mistake #2: Searching for a commercial property without a real estate agent
Though there are many property-finding tools and platforms available, a commercial real estate agent is invaluable when securing the best deals possible in Central Indiana. Frequently, a real estate agent can help connect you to properties that aren't yet advertised online.
Real estate is a volatile market at times, and the right commercial real estate agent will deliver the right properties at the right price, to set you up for long-term success.
Our own John DeLucia commonly tells business owners:
"I'm a big advocate of getting a real estate agent to access the property and location. If you've never owned commercial real estate, you won't know what's important. Although it may be tempting to try to go it alone, there are many reasons you'll benefit from hiring a professional."
Mistake #3: Not crafting a long-term wealth-building strategy
Taking out a commercial mortgage without a clearly defined business plan is a common mistake that can come back to haunt you later.
We know no one in our community wakes up craving to sign paperwork and become indebted to someone else. Your next commercial mortgage decision is a means to an end.
The best-laid plans are designed with the end in mind. Review your business strategy before applying for the loan and identify how you plan to pay the loan, what impact this will have on your daily operation, and what KPIs (key performance indicators) will be used to determine success.
The business owners we love serving see a commercial mortgage as one piece to a larger puzzle in how you operate, strategize, and go to market.
Mistake #4: Building everything under one business
Organization is the name of the game when it comes to applying for a commercial mortgage. Business owners often treat business financial planning in a similar manner to personal financial planning—everything under one roof. We often advise the business owners we work with throughout Central Indiana to build their assets separately instead.
There are a variety of ways to approach this concept. Still, one example could be obtaining another business license for your real estate holdings so you can one day capitalize on a sale-leaseback (SLB) opportunity.
It's important to have a team at the table that thinks strategically and positions you to build in such a way that affords long-term flexibility to meet your future goals. We often showcase a resource like this one with business owners interested in building out their strategic team.
Mistake #5: Skipping over essential due diligence
Due diligence may seem like the least exciting step in the commercial mortgage process. However, it's one of the most important.
Failing to uncover all the facts about a property may result in you paying an unfair price for a property, or worse, making a deal that costs you and your business' success down the line.
It's essential that you collect key information from the sellers, such as:
financial statements
operating expenses (including utilities)
maintenance records
tax information
building and environmental information (such as flood zone)
all licenses and permits.
Thankfully, you don't have to do this all on your own. Take our friends at Fountain Square Yoga, for example. They are now located in the heart of Indianapolis, but before acquiring their current space, we worked together to ensure they did a thorough assessment of the property—including conducting research into the environmental state of the location. Based on the area, they had to collect soil samples to ensure the property met all standards.
Unfortunately, many bankers stick to just "drawing up terms." The due diligence process should involve everyone on your team, from commercial real estate agents and attorneys to CPAs and strategic bankers.
Mistake #6: Partnering with the wrong banker
Many small business owners work with bankers who fail to take the time and energy needed to understand their business. It's rarely out of malicious intent but instead a lack of experience or expertise. They are so busy trying to service everyone, which is why it's important to assess the pros and cons of working with a local versus a national bank.
You want a banker at your table who's on your side and advocates for your success. They need to act as an extension of your management team.
Since 1873, we've been known as a Hoosier bank for Hoosier businesses. With locations throughout Central Indiana, we're big enough to be convenient yet still decidedly local on how we do business.
Whether you operate a yoga studio, dental practice, veterinary clinic, or any other type of business, we offer you way more than "drawing up terms." We're here at every step of the journey to ensure your next commercial mortgage experience is personal and meets your specific needs.
Request a Financial Assessment
The current commercial real estate market can complicate business decisions and it's important to accurately determine your eligibility.
If you already have commercial debt, we will thoroughly review your interest rate, potential pre-payment penalties, and present financial position so you can make an informed decision regarding your current or future commercial mortgage.

---
The views, information, or opinions expressed in this article are solely those of the author and do not necessarily represent the views of Citizens State Bank and its affiliates, and Citizens State Bank is not responsible for and does not verify the accuracy of any information contained in this article or items hyperlinked within. This is for informational purposes and is no way intended to provide legal advice.