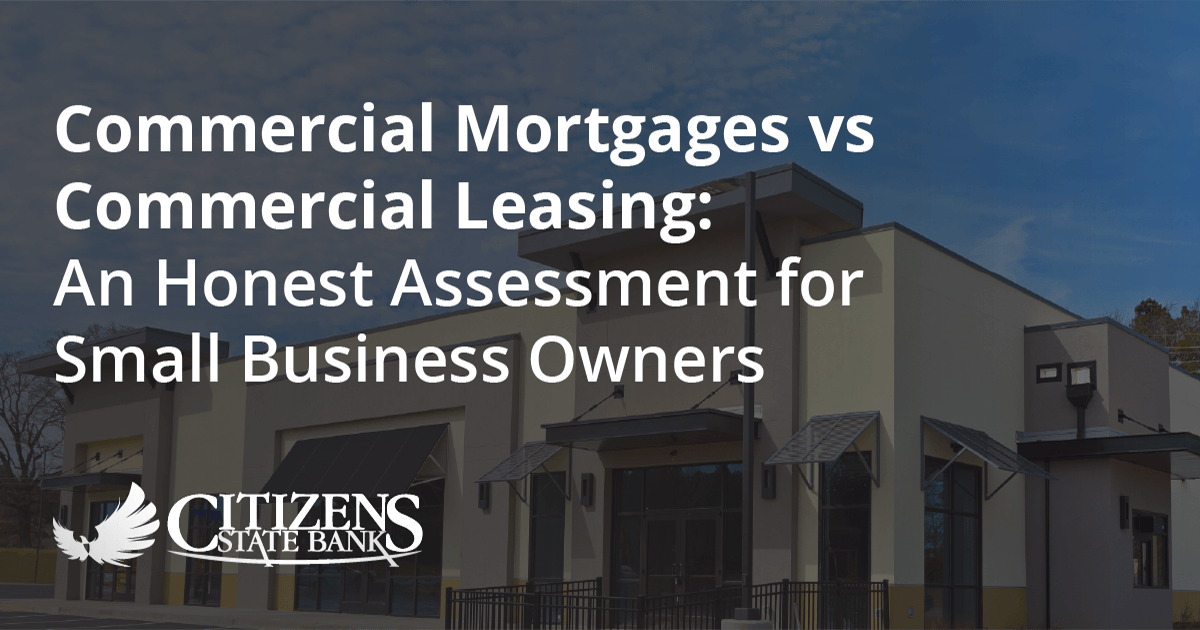 If you are starting a new business, or expanding an existing company, it's important to decide whether or not you should buy or lease a commercial space to operate. First, it's essential to understand the differences between leasing and buying a property.
Much like renting a home, you can lease a property for a set amount of time, and when the period is up, you can negotiate to continue the lease. If you buy a commercial facility, you may pay in cash or take out a commercial mortgage. Once paid in full, it's all yours.
As you decide, consider the following factors which will help determine which option is best for your business:
The type of business you have
What kind of activities you will conduct in the space
How much flexibility you will need in making the space your own
If you anticipate moving your business in the future
As with any major decision, it's imperative to weigh the advantages and disadvantages of your options. To guide you through the decision-making process for buying or leasing commercial property, we've laid out the pros and cons of each.
Pros and Cons of Leasing a Commercial Property
Leasing a Commercial Property - The Pros
Liquidity: If you are launching a new business and don't have a large revenue stream yet, you may want to keep cash on hand. The only upfront costs with leasing will likely be a security deposit and your first month's rent, as opposed to a loan which includes a large set of upfront costs – like a down payment, insurance, and taxes. By leasing, you can apply your capital to other business endeavors or opportunities.
Less to Manage: For most commercial property leases, the responsibility for maintenance and repairs falls on the landlord. This ensures your property's monthly costs are fixed—positioning you to avoid unexpected maintenance expenses.
Tax deductions: Your entire lease payment might be tax-deductible versus the interest-only deductions you'll receive for mortgage payments. (Talk to your tax advisor for details.)
Flexibility: If you become unhappy with or outgrow the location, it's easier to leave.
Leasing a Commercial Property - The Cons
No Equity: When you buy a property, your down payment and mortgage payments accumulate equity. With a lease, monthly payments do not give you any financial assets.
Possible Relocation: The lease you sign is a contract for only a matter of time. You run the risk of having to relocate when your lease is up.
Lack of Control: The owner of the commercial property you lease from has the right to make many decisions without your say, including renovations and other changes to the property. You also don't have control over lease terms.
Pros and Cons of Buying a Commercial Property
Buying a Commercial Property - The Pros
Equity: Although the upfront costs are higher when financing a property, both the down payment and monthly payments go toward equity - meaning that money isn't lost.
Appreciation: The value of your property may rise with time, so if you plan to keep your business in the location for many years, it's likely you'll see capital appreciation.
Possible Income From Rent: If you buy a property with more area than you need for your business, you can rent out the leftover space.
Complete Control of the Property: You won't have to worry about a landlord forcing you out of the property or raising the rent.
Buying a Commercial Property - The Cons
Initial Costs: Down payments for a commercial property typically range from 20-25% of the whole cost (unless you qualify for a Small Business Administration loan), which is a substantial amount of money. Additionally, hiring experts such as CPAs, lawyers, and financial planners can add to the upfront costs.
Lack of Mobility: If your business quickly expands, owning the property can hinder the process of moving with ease.
More Responsibility and Risk: Owning commercial real estate comes with many responsibilities such as maintenance, repairs, taxes, insurance, and legal liabilities.
Other Points to Consider if You Buy a Commercial Property
One of the most significant considerations when buying commercial real estate is whether you plan to manage the property yourself or hire a property management company. If you are the only business occupying the building, hiring a property manager is unnecessary, but if you have other tenants, it might be worth it.
Another critical decision you'll make as a small business owner is whether or not to set up a real estate holding company (Business B), which is separate from your current business (Business A). When you set up a holding company, your current business pays rent to "Business B." With this setup, you could sell one of the businesses and keep the other. You can also make a sale/lease-back in which you sell real estate, but your company leases it from the person who bought it.
Who Needs to Be at the Table
When considering a commercial mortgage, you need to bring experts and resources to the table early in the process. The following experts should be involved:
CPA to help with short-term financial implications
A lawyer for legal matters
A financial planner for overall wealth management and long-term financial considerations
A banker to strategically discuss lending
A commercial real estate broker for help finding the right property
The Citizens State Bank Commercial Property Process
The Relationship Managers at Citizens State Bank meet with small business owners one-on-one because we know each business is unique and has specific financial needs.
One of the most significant advantages of working with a local bank is that we can give your small business the attention it deserves. Additionally, our lenders are committed to providing a quick turnaround.
CSB offers a wide variety of small business loans to help you finance your commercial property. We can also help you refinance an existing property. There are several options:
Fixed-rate loans up to 5 years with amortization up to 20 years
Office, Industrial, Retail, Co-op Financing
Construction Loans
Hybrid Loans (Construction-Permanent Loans)
Permanent Loans
Request A Financial Assessment
During this complimentary assessment, we will cover your billing and payment capabilities, the health of your cash flow, lines of credit, and any specific challenges or questions you're facing.
We've been navigating this journey with business owners since 1873, and offer a variety of resources to help your business grow whether you bank with us or not. If you are ready to maximize your business financial planning to achieve your most important priorities, let's have a conversation.

---
The views, information, or opinions expressed in this article are solely those of the author and do not necessarily represent the views of Citizens State Bank and its affiliates, and Citizens State Bank is not responsible for and does not verify the accuracy of any information contained in this article or items hyperlinked within. This is for informational purposes and is no way intended to provide legal advice.