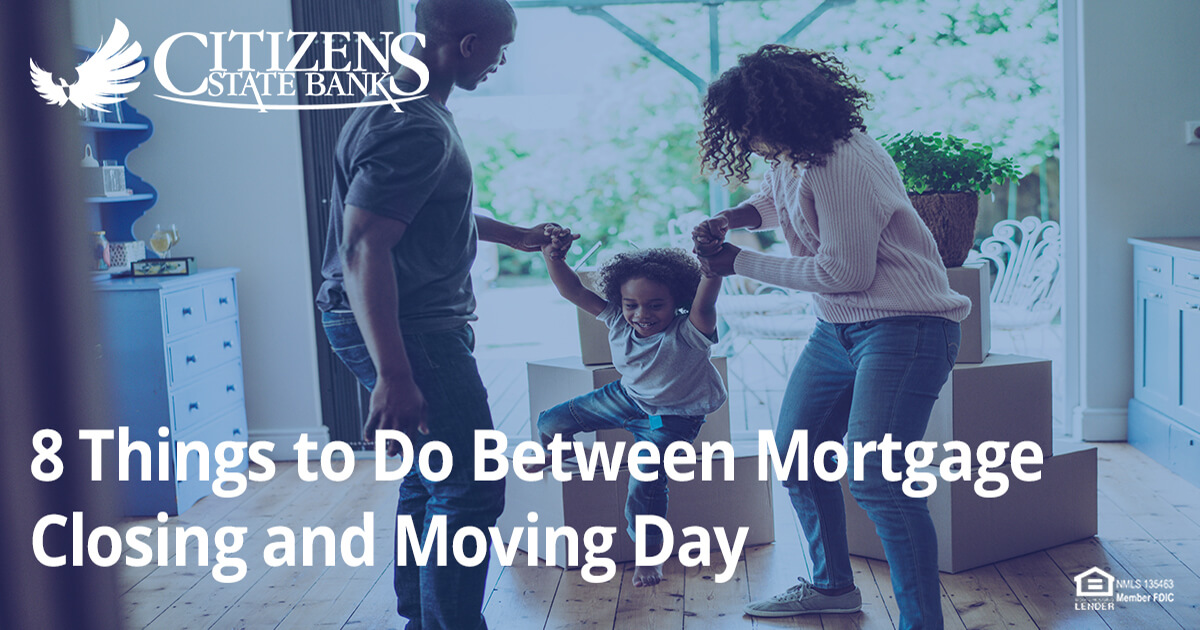 There's a lot to do between closing on your mortgage and moving into your new home, but where should you start? This checklist will help you get organized. Get a checklist of your own.
Change your Address and Hook up Utilities
When you know your closing date, contact the Post Office to instruct them to forward mail to your new address. Mail forwarding eventually ends, so you should change your address with some companies directly.
Visit the BMV to get a license with your new address and update your Voter Registration
Financial Service Providers – deposit and investment accounts, credit cards, loan servicers
Insurance Companies
Employer
Healthcare Providers
Delivery and Rideshare Apps
Subscriptions
It's a good idea to schedule an internet/cable installation appointment as soon as you know your closing date. The same goes for utilities like water, electricity, gas, trash/recycling pick up, and security services. (Don't forget to schedule disconnect dates for your current address.) Your local providers will let you know what type of ownership or residence verification you need, if any.
Review Your Inspection Report
Make a note of any repairs the previous owner wasn't contractually obligated to fix, and order them from most to least important. This is your "To Do" list so you can (hopefully) address issues before they blow up and cost a lot to fix. You can also use the inspection report to set up your home maintenance schedule. (Home maintenance is critical to keeping your home running smoothly and avoiding costly repairs.)
Do a Deep Clean
Whether you're moving into a newly constructed home or a well-loved one, you'll want to do a deep clean before you move in. Be sure to include areas you don't typically think of like air ducts, dryer vent, and chimney. Tackle outside projects like gutters and downspouts. This is the perfect time to replace, and set up a maintenance schedule, for things like your furnace filter, smoke and carbon monoxide detector batteries, water filters, etc. In addition, make note of anything that needs to be repaired or replaced. (Add those items to your "To Do" list from your home inspection and rank accordingly.) A fresh coat of paint really makes a new home feel clean, and if you're hiring a professional you'll often get a discount for empty rooms. If there's carpet in the house, you'll want to have it cleaned before you bring in your furniture.
Change Your Locks & Reset Security Codes
You'll want to change your locks and update your garage passcode soon after closing. A cost saving alternative is to have your locks rekeyed rather than replaced. Either way, be sure to have spare keys made to store in a safe location in case you ever get locked out.
Ask for instruction manuals and codes for any electronics, like alarm systems and garage openers. If the manuals aren't available, you can usually find instructions online for updating your garage pass code and reprogramming a garage door opener. If the keypad box seems old, you can install a new one – they're relatively inexpensive. You can also purchase garage door opener replacements to increase security.
If your home comes with an alarm system, you'll need to reconnect the service with the previous owner's provider or choose a new one. Sometimes equipment can be reused, allowing you to avoid installation fees.
Review or Purchase Your Home Warranty
Homebuyers often receive a home warranty purchased by the seller to cover major systems or appliances. (A home warranty covers items your homeowners insurance doesn't – for example, if your refrigerator stops working, it's likely to be covered by a home warranty.) If you received one, review the specifics so you'll know what's covered and how to file a claim. If you don't have one, you might consider buying one as the cost is fairly reasonable (~$350 – $500/year) depending on the coverage and length of the contract.
Purchase Emergency Supplies
This is the perfect opportunity to get your emergency supplies in place. You'll want to be sure to include items such as:
Flashlights and Batteries
Emergency Radio
Power Bank
Bottled Water and Canned Food
First Aid Kit
Candles and Matches
For more ideas, visit Ready.gov
Buy a Fireproof Safe or Rent a Safe Deposit Box
If you don't have a fireproof safe or a safe deposit box, now's a good time to get one. You'll want one large enough to store important documents like birth certificates, car titles, marriage certificates, closing and title company documents, insurance papers, etc.
File Your Homestead Exemption
The Homestead Exemption helps eligible homeowners save on property taxes by excluding a portion of the property value from tax assessment. If you're unsure where to go, visit https://www.in.gov/dlgf/2440.htm.
---
The views, information, or opinions expressed in this article are solely those of the author and do not necessarily represent the views of Citizens State Bank and its affiliates, and Citizens State Bank is not responsible for and does not verify the accuracy of any information contained in this article or items hyperlinked within. This is for informational purposes and is no way intended to provide legal advice.