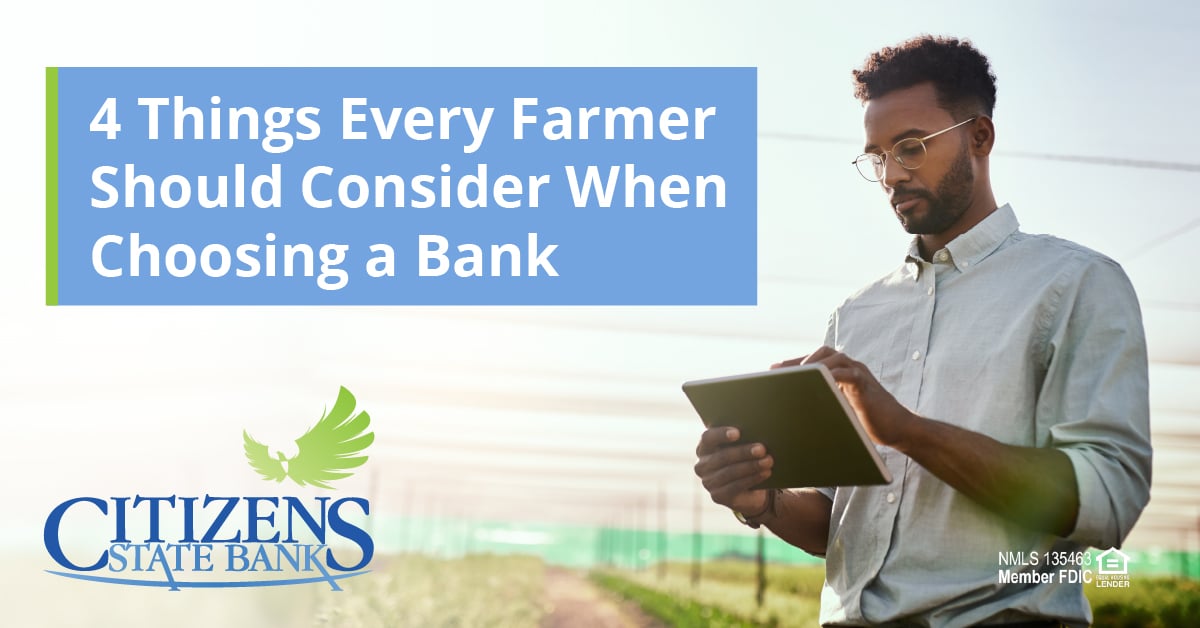 When it comes to choosing the right bank, farmers have a great deal to consider. Agriculture can be a volatile industry, meaning farmers often face numerous risks, such as weather-related losses and market fluctuation. In the agriculture industry, choosing the right bank can be a strategic and empowering decision. Ultimately, making the best decision comes down to understanding your unique needs.
Here are four things every farmer should consider when choosing a bank.
1. Do they understand your local agricultural market?
A banking partner that knows the local landscape (figuratively and literally) will understand the challenges and opportunities specific to your region and your business.
This perspective will allow them to provide advice and resources designed with your specific situation in mind. For example, if your banking partner understands that your region experienced a turbulent stormy season or crop disease outbreak, they'll see your business beyond your net worth. You'll be able to have open conversations about the market and how it affects your yields.
At the end of the day, finding a banking partner that knows your local agricultural market is about finding someone who will be able to see your business as an entire story, rather than just a snapshot.
2. Do they have experience in agricultural lending?
Whether you're a seasoned farmer with decades of experience or looking to get started, the key is to find a bank with expertise in agricultural lending. An experienced banking partner will understand the financial needs and risks that are unique to the farming industry and will be able to guide you to the right options for your business.
For example, while a Farm Ownership Loan would be a great option for a young farmer aspiring to buy their first property, that same solution wouldn't be appropriate for an established operation looking to expand their seasonal operations. Your ag banking partner should have the insight and experience to know what you need.
3. Do they offer flexible lending and lines of credit?
Your bank should offer both flexible lending options and operating lines of credit tailored to meet farmers' unique needs.
As a capital-intensive industry subject to seasonal fluctuations and weather variability, the right banking partner will be able to assess your position and advise you on crucial decisions such as real estate loans, equipment financing, or opening up a line of credit to help you control your cash flow.
Finding a bank that offers flexible options will prove especially valuable as your business evolves. Additionally, when evaluating a bank's services, be sure to look for a bank that is transparent and upfront about fees, such as contingencies and balloon payments. You'll want a bank that is clear about repayment terms and structures.
Finally, be sure to consider your business's needs beyond lending. Consolidating all of your needs at one bank, such as your checking accounts and treasury management, can help you build a solid foundation for success.
4. Do they take the time to get to know you and your business?
Finding a bank that provides all the right services is only half the battle. At the end of the day, you need to find a bank that sees you as a partnership, not just a transaction.
When choosing your bank, ask yourself if they take the time to get to know you and your business. There is no one-size-fits-all solution for all farming businesses, and the right partner will seek to understand your methods and offer personalized financial advice.
Do they understand the nuances of the agricultural market? Will they listen to your story and factor that into their financial advice? Do they see themselves as your strategic banking partner? The right partner will be seeking a long-term relationship and be an advocate for your success.
We're Here for Your Success
At Citizens State Bank, we know that many farmers and ag business owners face complex decisions, whether taking out an ag loan or opening a line of credit to expand their operations. That's why we're here to provide the support needed to scale your business with our Bank Account Switch Kit for Ag Businesses. Our goal is to make the switch as easy as possible.
Talk with one of our Ag Lending Specialists today to learn more.