Staff Spotlight: Nate Niehoff—Commercial Loan Officer and Ag Lending Specialist
January 6, 2023 •Admin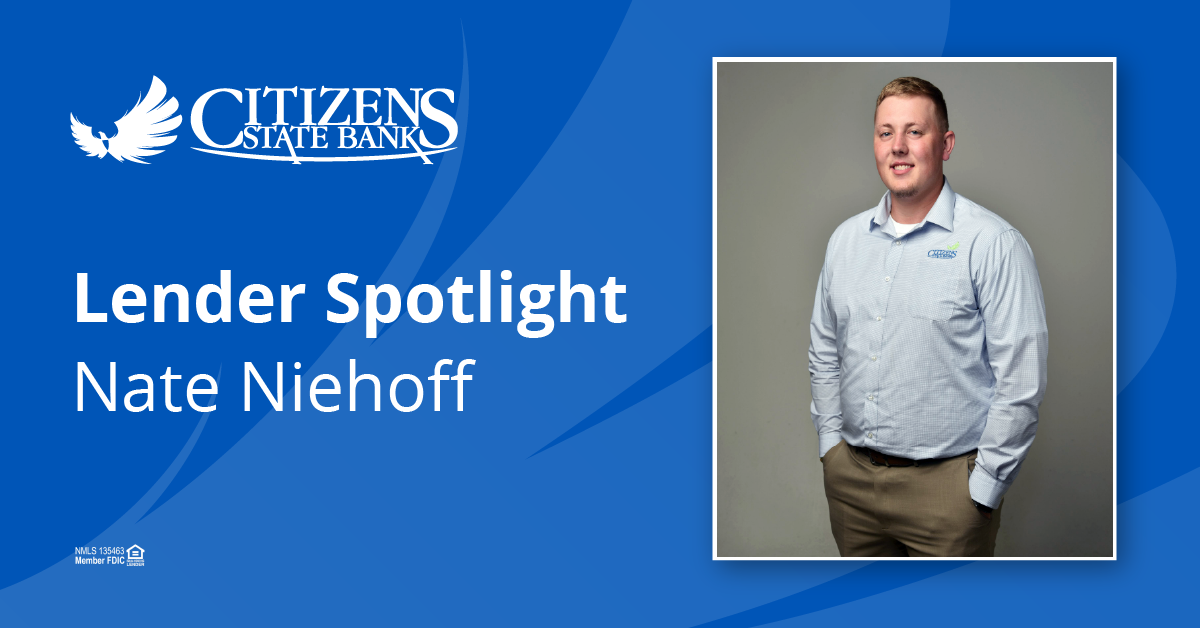 Born and Raised in Rushville
Nate Niehoff has been at Citizens State Bank since 2019, first as a credit analyst and now as a Commercial Loan Officer and Ag Lending Specialist. Born and raised in Rushville, he earned his Bachelor of Business Administration with a concentration in Finance from IU East, Richmond. Since that time, he's earned certifications in Microsoft Excel and Credit Analysis Schools I and II through the Indiana Bankers Association.
It was shortly after Nate finished his degree that CSB Chief Credit Officer Ken Schroeder reached out to Nate about an underwriting job with CSB. He eagerly interviewed for and accepted the job, spending the next 3 years soaking up all the information about business banking that he could.
Serving the Customer First—Nate and CSB's Highest Priority
While he enjoyed being a credit analyst, Nate's long-term goal was always to move into a customer-facing role helping people in our community with their finances. Lucky for him, the stars aligned, and Nate moved into that customer-facing role in his hometown of Rushville, which was always the ultimate goal. CSB specializes in helping agricultural businesses. This role and location allowed Nate to return to his roots. It's been a match made in heaven.
Nate loves the ability to give back to the farming community that raised him. In fact, he grew up on his dad's farm in Rushville and now actually lives there with his wife. Being an agricultural and commercial loan officer at Citizens State Bank allows him to participate in his community in a unique way and help the people he cares about. Nate loves helping local businesses of all sizes (especially in agriculture) grow and thrive. It's an honor for him, and us, to play a small part in their growth.
CSB has programs for all types of agricultural financing, from lines of credit to land and equipment purchases. CSB specializes in small- to medium-sized farms but also can cater to larger operations. Nate emphasizes — and we agree — that it's about doing business the right way, building relationships, and ensuring your priorities come first. It's also why we developed this hub of resources for business leaders in ag and beyond.
Problem-Solving and Finding Good Fits for Clients
Nate loves it when he can solve a sticky problem for a client. With his underwriting background, he is able to explain cash flow to his clients and help them understand how they can make cash flow better for their business. Nate understands the different types of loans that are possible to write for agricultural businesses, not all of which may fit into a standard box. Nate loves being able to dig into a unique business and taking on the task of writing them a loan that fits them like a glove.
Some Financial Wisdom and Where to Find Nate
When asked about his favorite piece of financial wisdom he's received in life, Nate said, "You are the root of your financial success or failure. If you work on the roots, the fruits will take care of themselves."
In his free time, you'll find Nate giving back to the community by volunteering with the Rush County Rotary Club, assistant coaching the varsity high school basketball team, volunteering for the Rushville Chamber of Commerce, and sitting on the Economic & Community Development Committee board. When he has time left over from those activities, Nate spends time with friends and family, likely golfing or antique tractor pulling. Or you may find him listening to his favorite financial podcast: The Ramsey Show with Dave Ramsey. Feel free to stop by the CSB Rushville office anytime to ask Nate any questions you might have, give him farming advice, or just to say "Hi."
Chat with a Loan Officer like NateToday
Citizens State Bank is full of passionate banking experts just like Nate who come to work every day excited to make a difference for small businesses in Indiana. Whatever questions you have about cash flow, loans, or anything else related to small business banking, Nate and our entire team of CSB experts are here for you, our customers, above all. We want to empower you and your business to thrive financially.
Questions for Nate regarding business or ag loans? Find his contact information here.
Request a Financial Assessment
The current commercial real estate market can complicate business decisions and it's important to accurately determine your eligibility.
If you already have commercial debt, we will thoroughly review your interest rate, potential pre-payment penalties, and present financial position so you can make an informed decision regarding your current or future commercial mortgage.