Guide to Evaluating a Business Opportunity
October 18, 2023 •Leah Driver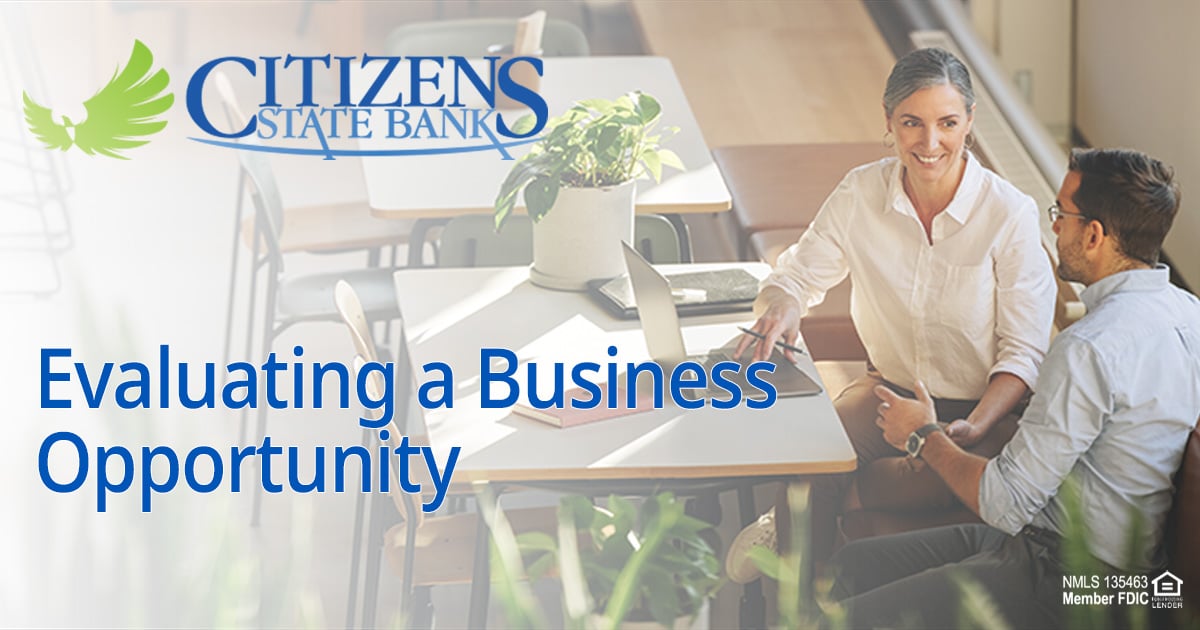 Business ownership can be an exciting path to financial independence and personal fulfillment. Whether you're considering buying an existing business, opening a franchise, or investing in a novel venture, there are essential steps you should take to evaluate the opportunity thoroughly. In this article, we'll discuss the key factors to consider when assessing a business opportunity, from conducting detailed research to understanding the financial implications and assessing your personal suitability.
Get Specific Details
It's crucial to gather as much information as possible about the business opportunity before making any commitments. Don't be afraid to ask a lot of questions. Getting the details up front will be a big help in the long run. Here are some examples to consider:
Research the Brand. If it's a franchise or established business, look up the product or brand online. Assess the reputation of the company and how its products or services are perceived in the market.
Financial Reports. If you're considering an existing business, request financial reports from the seller. This will help you understand the company's financial health and stability.
Try the Product/Service. Test the product or service yourself. Enthusiasm and belief in what you're offering are crucial. If it's not something you would use, consult potential customers to gather their impressions.
Look for Red Flags. If the company has recently changed its branding, find out why. Check with the Better Business Bureau to determine if any complaints have been filed. Look for court filings.
Learn as Much as You Can about the Industry
Use online resources and social media to find out about the industry or sector – there are several free and paid industry research platforms available.
Study Trends. Analyze industry trends to ensure the business opportunity is aligned with current and future demands. Educate yourself about what's hot and what's not within the industry, as well as the outlook for the industry itself. (Tip – Use the word "trends" along with the name of the industry is a good starting point.)
Visit Similar Businesses. Gain insights into the day-to-day operations by visiting similar businesses. Learn from existing business owners about their experiences and what you might expect.
Industry Resources. Newsletters, magazines, and other resources targeting the industry are a great source of information. Don't forget to look for podcasts, online blogs, books, and wikis.
Identify Your Target Consumers and Market
In addition to identifying your potential clients, you'll also need to determine the best way to get the product/service delivered to them.
Determine who your target consumers will be based on the product or service offered. Conduct research to understand your potential market and its needs.
Engage with the potential consumers you've identified to assess demand. Use social media to connect with potential consumers and gather insights into their preferences and buying behavior.
Determine if the opportunity is internet-based, requires a brick-and-mortar location, or is a hybrid of the two.
Assess Your Situation
This is perhaps one of the most important steps when accessing an opportunity and can be one of the most difficult because it requires being completely honest with yourself and a little bit of fortune-telling. A few questions to ask yourself:
How much time will this business require?
Are you able to devote that much time, and likely more, to the business?
Does this industry require special formal education or certification? If so, do you meet those requirements? If not, what would you need to do to meet the requirements?
Examine your personal preferences and existing obligations – is this opportunity currently a good fit? Will it be in two years? Five? Ten?
And, just as importantly, assessing your situation includes your financial situation. Understand the financial requirements of the opportunity.
Don't forget to consider not only the initial investment, but also recurring costs like annual licensing fees if applicable.
How much will you need for day-to-day operations?
Look at your personal budget – how much of your own money can you afford to use? How long will you be able to cover your household expenses?
Will you need to secure financing? What financing opportunities are available?
Does it make sense to bring on a partner to help with financing?
Evaluate Pros and Cons
After you feel that you're fully informed, make a list of pros and cons, then access the value of each. If there's no clear winner, the opportunity probably isn't right for you – at least not right now.
If your list was more "pro" than "con," it's probably time to bring some other folks to your table. You'll want to take the time to consult:
An attorney to help you review the business paperwork, ensure the opportunity complies with local laws and regulations, and help ensure your personal assets are protected in case there's an issue
An accountant can advise you about tax issues, help you determine the most useful bookkeeping practices, and more
An insurance agent can advise you as to the types and amounts of coverage you need
A banker can help advise you as to financing opportunities, help you set up your accounts in a way that best protects your assets, and more.
Conclusion
Evaluating a business opportunity is a crucial step towards success and financial security. Thoroughly researching, assessing your suitability, and understanding the financial implications are essential for making an informed decision. Remember that patience, diligence, and professional advice are your allies in this process. By following these steps, you can make a well-informed choice and set yourself up for a successful venture.
Request Financial Advice
Ready to start a conversation with us about your financial plan for your small business? Schedule a consultation to receive a financial analysis and unlock new opportunities.
---
The views, information, or opinions expressed in this article are solely those of the author and do not necessarily represent the views of Citizens State Bank and its affiliates, and Citizens State Bank is not responsible for and does not verify the accuracy of any information contained in this article or items hyperlinked within. This is for informational purposes and is no way intended to provide legal advice.