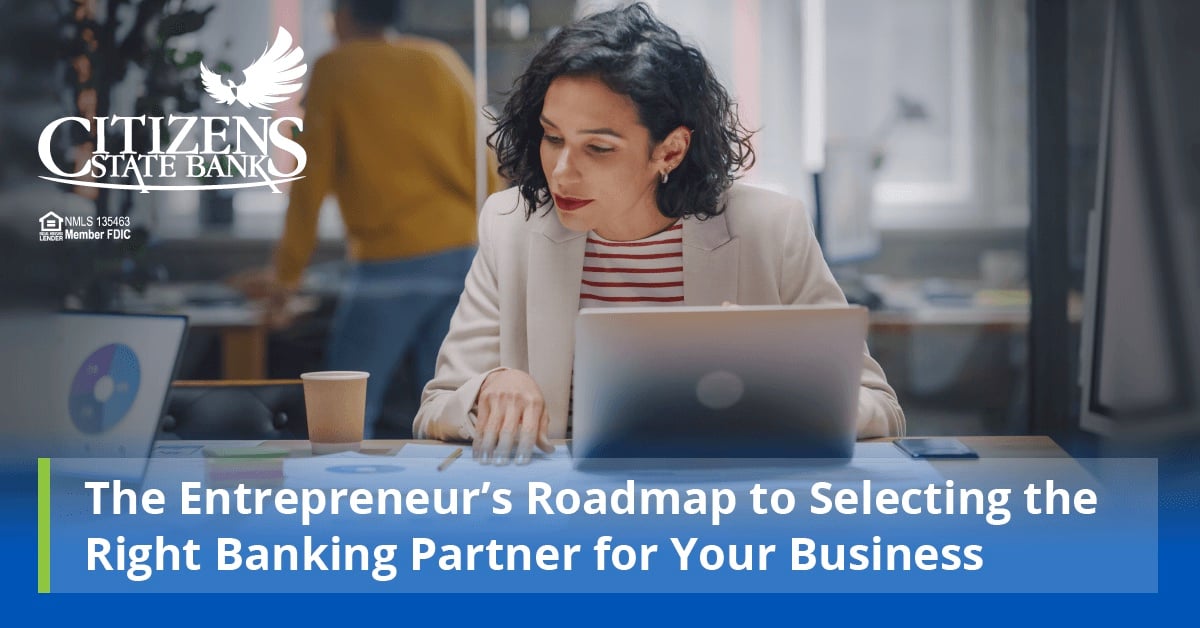 Entrepreneurs in every industry have a lot on their plate. From sales and marketing to operations and planning, entrepreneurship is full of opportunities—but also not for the faint of heart.
Over the past 150 years, we have seen the rise and fall of products, services, and technologies, but the one thing that has yet to change is the entrepreneurial spirit driving business owners throughout Central Indiana. They create companies that serve customers well, fill a need in the market, and provide employment opportunities to others in our community.
We love supporting entrepreneurs like you in your journey, but we also realize it's challenging at times to know what role a bank should play in your business as it continues to grow and scale. With that idea in mind, this blog unpacks the three common stages of entrepreneurship we see and how a community bank is best positioned to support you at each step.
The 3 Most Common Stages of Entrepreneurship
Early-Stage Entrepreneurs
Early-stage entrepreneurs can fall into a variety of categories. You have the traditional hallmark story of people starting businesses in their basement. Serial entrepreneurs who are adept at creating new startups—and a variety of businesses that span the gap between them.
Here in Central Indiana, the marketplace is full of brick-and-mortar businesses, online-only operations, and a bevy of valuable product and service providers.
Take Complete Office Supply, for example. As a second-generation, family-owned business, entrepreneurship runs deep in Alan's veins. With a traditional brick-and-mortar shop in place, he's continued to pivot to meet the demands of his customers and the market.
And with a solid banking partner by his side, he's projecting exponential growth over the next few years as they position their business to be the go-to resource for businesses in Indiana that need furniture, office supplies, and janitorial supplies.
And while Complete Office Supply isn't considered early-stage, they once were. Reflecting back, the banking support they need now is vastly different from those early days.
That's exactly why we offer business plans, banking switch kits, and free advice via our financial-focused blog for Central Indiana entrepreneurs in the earliest stages of their business.
A Simple Quick Reminder
Operating a great business is an act of service to your customers and community. It's hard, but important work.
"Whenever you see a successful business, someone once made a courageous decision." — Peter Drucker
Our Recommended Services and Resources for Early-Stage Entrepreneurs
Small Business Financial Management
Basic Business Ownership Terms
Indiana Small Business Development Center
How a Financial Mentor Can Help Your Business
Emerging Entrepreneurs
Emerging entrepreneurs, in our experience, are battle-tested. While many start-ups and freelance projects come and go, businesses that stay in the game face many predictable patterns of growth in the early years. Freshbooks, a trusted accounting software for many businesses, has a fascinating breakdown that expounds on this very idea and uncovers many of the common trends during the first four years.
This stage of entrepreneurship is often marked by a need for formalizing systems, expanding beyond a solopreneur operation (in many cases), and developing strategic plans to sustain the initial success and predictably achieve current and future goals.
KBIC Consulting is a perfect example of this. They provide clarity and guidance to businesses that are overwhelmed by the complexities of their insurance portfolio. Owners Andy Kaelin and Rob Brogan came to CSB in 2013 after realizing they needed more than just a bank—they wanted a partnership.
As they've journeyed through multiple stages of their business, it became clear that we both shared common values—being in it for the long game. At CSB, we often talk about treating our clients as relationships, never a number or transaction.
This mantra proves out when Andy shared, "I was blown away by the service. I felt like Citizens State Bank was working just as hard as we were to find solutions." —Andy
Bottom line? No matter who you choose to bank with—their values and approach should be aligned to provide you the long-term partnership you and your business deserve.
A Simple Quick Reminder
It's fairly easy to launch or start a company in the legal sense. Making it a viable, profitable business is the real challenge.
"Feeling confident—or pretending that you feel confident—is necessary to reach for opportunities. It's a cliché, but opportunities are rarely offered; they're seized." — Sheryl Sandberg
Our Recommended Services and Resources for Emerging Entrepreneurs
Business Digital Banking Services
The CSB Business Banking Resource Hub
The Right Accountant Is Critical for Business Success
Established Entrepreneurs
Established entrepreneurs have walked through the very earliest steps of founding a business, seen success, and found creative ways to not just stay in the game, but thrive. These business owners remind us of the Farmer's Insurance commercial that states, "we know a thing or two because we've seen a thing or two."
And while no business owners have it all figured out, CEOs and leaders in this category are marked by a seasoned maturity that only comes with experience—both in growing a company and determining what they value in their strategic partnerships.
They've discovered how important it is to have a qualified accountant or CPA on their side. They also know the importance of having strategic thinkers at their table in key areas such as marketing, legal, finance, and HR.
That being said, the entrepreneurs who reach out to our team often come with a bad taste in their mouths with previous banking experience. Sure, they've found dozens of entities willing to loan them money. Run-of-the-mill business checking accounts are a dime a dozen. And while many of these banking services feel similar, what's missing is a strategic banker who walks alongside them as a trusted partner—which is precisely why we've spent the last 150-plus years playing the long game.
As one of our Commercial Relationship Managers, Matt Patterson, states, "all banks can provide good service when things are easy. When things are hard, you see their attention to deal and commitment (or lack thereof) to providing the very best service and experience."
A Simple Quick Reminder
After you've seen any level of success in your business, it's natural to wonder what's next. It's relatively clear in the early days that generating cash flow is king.
But after that, the freedom and flexibility of seeing success can sometimes raise important questions. It's important in these moments to learn, listen to the people you trust most, and make decisions that help you build a business you love—not one you think everyone else expects of you.
"People grow through experience if they meet life honestly and courageously." — Eleanor Roosevelt
Our Recommended Services and Resources for Established Entrepreneurs
Speciality Finance for Central Indiana Entrepreneurs
Complimentary Financial Assessment
Employee Retention Credit—Claim up to $26k per employee
Meet the Dedicated CSB Business Banking Team
The CSB Business Banking Resource Hub
Business Digital Banking Services
LinkedIn Groups for Entrepreneurs
60 Entrepreneurship Podcasts to Follow
Serving Entrepreneurs With Your Business Banking Needs Throughout Central Indiana
As an entrepreneur, selecting the right banking partner for your business can feel like a daunting task.
With so many options available, it can be difficult to determine which one will provide you with the best service, experience, and terms. That's why we explore the difference between working with a local community and national bank in this comprehensive blog.
It's also why we have dedicated Relationship Managers ready to have a conversation with you to first understand your needs and then explore how we can best support you in your entrepreneurial journey.
We want you to bank and borrow with confidence — knowing your trusted banking partner has a storied legacy of serving local entrepreneurs like you with a suite of business banking services designed to meet your needs at every stage of your company's journey.
Free Infographic: The 5 Pillars of Treasury Management
In today's evolving market, savvy business owners are intentionally talking about their cashflow. It's a conversation we have regularly with leaders like you, and exactly why we outline the 5 essential elements of treasury management inside this easy-to-review infographic.